Popular MusiciansBuy Lab Packages
---
---
The Lab That Grows With Your Needs
MusiciansBuy Lab Packages Base come with everything needed as many students as you require and one teacher. That's all the stands, benches, headsets, cabling, I/O boxes, Hub and Control Unit to get a lab up and running fast. It's All in One Box!
If you need to accommodate more students, simply add the LC4 Expansion which comes with everything needed to add eight more students to the LC4 Base (max 48 students).
Wireless Control of the Classroom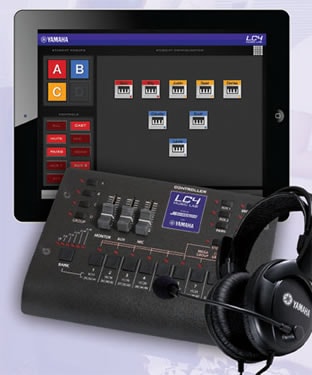 The optional LC4 Wireless Kit will allow you to control the lab with an iPad (not included). The Wireless Kit includes networking hardware, connector cables and wireless headphones, allowing you to use the LC4 Controller App. The exclusive Yamaha LC4 Controller App lets you position student icons in the app to match the physical layout of instruments in your lab. When using the hardware controller by itself without the app, you're limited to viewing only eight students at a time. But with the LC4 Controller App, all student icons can be seen and selected from one convenient interface. Add names to student icons, take attendance, make notes and even broadcast your iPad music library to the class - a first in Music Lab technology!
Yamaha Exclusive Features Come Standard
Optional LC4 Wireless Kit allows you to control the lab with an Apple iPad
Controller App lets you configure and store an unlimited number of class setups, including students' names and attendance
Controller App's Scan Mode conveniently auto-scrolls through student instruments for easy monitoring
Convenient "Mega Group" feature for connecting up to 48 students with the press of a single button
Heavy-duty Yamaha CM500 Headset Microphones for listening and class communication
Intuitive installation and operation guides
PC/Mac inputs for each student, ideal for computer/music recording
An Affordable Modular System for Educational Musical Instrument Labs
The Yamaha LC4 Music Lab system provides music educators with an intuitive, flexible way to teach a musical instrument to a group of students - all together, in smaller groups, or one-on-one - from any location in the room. The LC4 comes with everything an 8-student lab needs to be set up with almost any electronic instrument in your group-teaching environment.
Expandable to accommodate classes as large as 48 students, the LC4 uses a network of headphones and microphones to make it seem as if each student is isolated in his or her own practice room; ideal for private practice or one-on-one instruction with the teacher. But with the touch of a button, the practice room walls can be instantly removed for group study, teacher-only broadcasts or "all together now" ensemble performances. Instructors even have a mute button that disables the students' instruments when it's time to pay attention. Exclusive features like LC4 Wireless Kit that enables wireless control of your music lab, the heavy duty Yamaha CM500 headset microphones and the Mega Group quick configuration button set the LC4 apart from its contemporaries.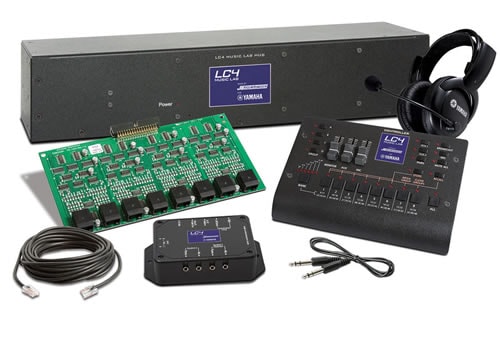 Personalized Service and Support
We are committed to making sure you're completely satisfied with your lab purchase both before and after the sale. Our Personal Service Consultants will assist you with selecting your lab options, provide you with a customized quote with our special Educator Discount, and getting your school Purchase Order processed quickly and efficiently.
When your lab is delivered, your Personal Service Consultant will call you to assist with the setup of your lab and keyboards. Also, your Personal Service Consultant will periodically follow up with you to ensure you're aware of any upgrades, add-on products, or other information that will support your initiative to provide music instruction using the latest technology and systems. Finally, if you have any questions at all about the lab or how it operates, your Personal Service Consultant is just a phone call away. We're here for you!
Call us today at 877-778-7845 to speak to your very own Personal Service Consultant!