IK Multimedia Irig Acoustic Stage for Acoustic Guitar/Ukulele
Model #214967
Free Shipping Over $99 Lower 48 States*
One Day Delivery to PA and FL!
No Tax Outside CA, FL and PA!
30-Day Guarantee!
Shipping Note: Due to size and/or weight specifications, there is an additional shipping fee of that will be added during checkout.
Shipping Note: Due to limited availability of this product, there is an additional shipping fee of that will be added during checkout.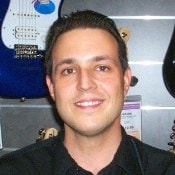 Description

The Advanced Digital Microphone System for Acoustic Guitar

iRig Acoustic Stage is the new hi-tech solution for accurately reproducing the full sound of acoustic guitars and other instruments with studio-quality sound live on stage and in the studio.

The combination of its advanced MEMS microphone and hi-quality preamp and DSP processing unit provides — for the first time ever — a break-through solution that offers hi-quality natural sound, advanced features, ease of installation and a convenience never seen before.

Until now, getting your acoustic to sound like it does in the studio when playing on stage has been a difficult, if not impossible, task. Playing an acoustic on stage typically falls into two scenarios: using the onboard piezo or magnetic pickup system to project a fractional representation of your acoustic's natural warm tone, or sitting stationary on stage with microphones in "the sweet spot" on your acoustic, dramatically limiting your ability to move.

With iRig Acoustic Stage, you no longer have to sacrifice great acoustic tone when playing live. iRig Acoustic Stage gives you the best of both worlds — the beautiful, rich sound of your acoustic guitar as if it were mic'd up in the studio AND the freedom to move around without compromising your sound. Sound impossible? Read on…

iRig Acoustic Stage is a patented, revolutionary digital microphone system that makes your guitar sound exactly as if it was captured with a classic recording studio setup, giving you full rich studio-quality sound on the stage.

It's a compact acoustic microphone and advanced digital preamplifier and processing unit that recreates a studio microphone set-up providing you with all of the true character and tonal nuance of your acoustic in live playing situations. Simply clip the iRig Acoustic Stage's microphone to the sound hole, attach it to the iRig Acoustic Stage pre-amplifier processor, then connect the preamp to your amplifier or mixer. iRig Acoustic Stage also features a "Cancel Feedback" button that gets rids of annoying frequency feedback during performance.
Specifications
Advanced MEMS microphone clips on to sound hole
Preamp/DSP unit
Dramatically improves your live acoustic sound
1/4" AUX input with volume for piezo, magnetic pickups or other onboard electronics
1/4" Output with level control for amplifier or PA system
USB audio out for recording on a computer or mobile device
Cancel Feedback with multiple frequency feedback cancelling
6 tone presets
Personal instrument calibration
Works on any acoustic, acoustic electric or ukulele with round sound hole
Phase switch for optimizing dual source sound