Yamaha HS8 120 Watt Monitor (each)
Model #HS8
Free Shipping Over $99 Lower 48 States*
One Day Delivery to PA and FL!
No Tax Outside CA, FL and PA!
30-Day Guarantee!
Shipping Note: Due to size and/or weight specifications, there is an additional shipping fee of that will be added during checkout.
Shipping Note: Due to limited availability of this product, there is an additional shipping fee of that will be added during checkout.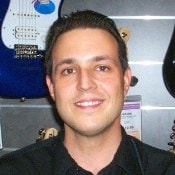 Description

Ever since the 1970s the iconic white woofer and signature sound of Yamaha's nearfield reference monitors have become a genuine industry standard for a reason - their accuracy. Unlike studio monitors with added bass or treble frequencies which may sound more flattering at first, HS Series speakers were designed to give you the most honest, precise reference possible, providing an ideal sonic platform to build on throughout the mixing process.

By combining acquired knowledge and expertise with state-of-the-art sound technologies, Yamaha's speaker engineering team have examined, then optimized, every aspect that has contributed to making these monitors the most trusted in the business. The second generation HS Series also adds a new 6.5" model to the lineup, bringing its exceptional accuracy to an even greater variety of recording environments.
The HS Series features newly developed transducers that achieve astonishingly smooth response over a wide range of bandwidth. These transducers utilize an advanced magnetic field design that regulates the flow of magnetic response to provide seamless, natural sonic transitions. Each component's materials and design were carefully re-examined, then optimized, to drastically improve the accuracy of signal reproduction throughout the audio spectrum. - Twetter

The HS Series features a newly designed, highly efficient 1" dome tweeter that extends the usable frequency range considerably and delivers superb high-resolution sound. Utilizing a thick wave guide designed to minimize vibration the new tweeter is able to deliver smooth, distortion-free high end up to 30 kHz. - Woofer With newly designed, ultra-responsive woofers that utilize large, carefully selected magnets, HS Series monitors produce low distortion sound with a well-defined bottom end at any output level. All of the components in these high-power woofers, including the woofer ring and the basket further contribute to the HS Series' stunning bass while providing clear, accurate mids.