Wampler Pinnacle Distortion Guitar Pedal
Model #PINNACLE
Free Shipping Over $99 Lower 48 States*
One Day Delivery to PA and FL!
No Tax Outside CA, FL and PA!
30-Day Guarantee!
Shipping Note: Due to size and/or weight specifications, there is an additional shipping fee of that will be added during checkout.
Shipping Note: Due to limited availability of this product, there is an additional shipping fee of that will be added during checkout.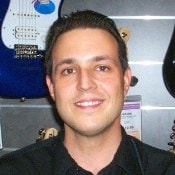 Description
Zeke Clark, Edward Van Halen's longtime reknowned guitar tech recently got one of these and this is what he had to say: "I've played tons of pedals that promised that 'brown sound'... this pedal NAILS it better than anything I've ever heard or played." -Zeke Clark, former tech for Eddie Van Halen Sometimes you need extreme gain, sometimes you need mild overdrive...this pedal does that with an awesome "brown sound"! It has an extremely tweakable eq - from scooped mids to tons of warm mids, all with the turn of 2 knobs. *EACH pedal is built to order at the time of purchase. Current lead time is about 2-3 weeks This pedal has 4 knobs -- two separate tone controls that act as a sort of parametric EQ, gain and volume. It also has a 'bright' switch that adds a ton of variety and is very handy when playing a dark sounding amp. It is completely true bypass, of course, and includes a 9v "boss style" power jack and battery connection. Specs *Boost switch alters gain structure to take it from overdrive to distortion. *High gain, crunchy and dynamic pedal *Extremely tweakable EQ *Can do scooped mids to 'honky' mids to lofi. *High boost switch for using with amps that are not very bright and sparkly clean. *High grade film capacitors and resistors picked for their superior sound *Completely true bypass *Ultra-bright LEDs for ease of use *Battery connection and 9v power jack (barrel plug like Boss) *3.5" x 4.5" *Powder coated durable finish *Designed to get the best EVH "brown sound" possible within a pedal design * Red Sparkle, white Knobs * Jfet (mu-amp) type circuitry - solid state version of a tube amp.
High gain, crunchy and dynamic pedal
Can do scooped mids to 'honky' mids to lo-fi
Ultra-bright LED's for ease of use
Powder coated durable finish
Designed to get the best EVH "brown sound" possible within a pedal design