Wampler Ace Thirty Vintage Overdrive Pedal
Model #THIRTYSOME
Free Shipping Over $99 Lower 48 States*
One Day Delivery to PA and FL!
No Tax Outside CA, FL and PA!
30-Day Guarantee!
Shipping Note: Due to size and/or weight specifications, there is an additional shipping fee of that will be added during checkout.
Shipping Note: Due to limited availability of this product, there is an additional shipping fee of that will be added during checkout.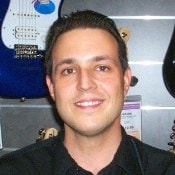 Description
Over the last couple of years Wampler Pedals have released the Black '65 and Tweed '57 to compliment the Plexi-Drivein the Heritiage Series. Having mastered the classic American tones from both the Blackfaced amps of the 60's and the Tweed style of the 50's, Brian decided it was time to concentrate on the other classic British tone - the tones made famous by VOX amplifiers.

Renowned for their bell like quality and brilliance of clarity, these are the tones that have been the cornerstone of many famous musicians. Bands that have endorsed these classic tones are: The Beatles, U2, country artist Brad Paisley, The Shadows, and of course, the man with the most unique guitar tone of them all - Dr. Brian May of Queen.

Finally after tweaking this pedal for 3 years, Brian was beyond happy. Other pedals have come and gone, but this one has always been on the breadboard; being tweaked here and modified there. Finally Brian was ready to present one of his favorite tones of all time.

What makes those amps so special? Well, first of all there is the "chime" - A beautifully clear and concise high response that cuts through anything. Then there is the overdrive. When you push it hard (with the boost switch activated) the tone creates a midrange hump that makes your tone enormous but with enough clarity to hear every string ring through. The Ace Thirty truly is a master class in tone.

As you would expect from Wampler Pedals, great care has been taken to ensure authenticity of tone. The EQ features a Top Cut (not an inverted treble boost), that reacts and removes the same spectrum of frequencies you would expect from the originals. Switchable gain stages allow you a much clearer tone right up to the "that" beautiful, almost regal overdrive. On the inside is a trim pot that will adjust the input gain; so if you are using a guitar with hotter pickups, dropping this back a touch will allow you to retain a true clean tone. Brian has taken his time to ensure that this pedal is "just" right.

With the built in Class A treble boost, this really is the perfect VOX based pedal.

So now you can make your guitar rig sound like a classic hand-wired Vox amplifier. With just a click of a switch you can go from chicken-pickin country licks to classic rock tones fit for a Queen… all without breaking the bank.