TC Electronics Plethora X5 Multi Effects Processor
A flexible, changeable multi-effects unit that allows you to build up to 127 customized pedal boards.
Model #PLETHORA X5
Free Shipping Over $99 Lower 48 States*
One Day Delivery to PA and FL!
No Tax Outside CA, FL and PA!
30-Day Guarantee!
Shipping Note: Due to size and/or weight specifications, there is an additional shipping fee of that will be added during checkout.
Shipping Note: Due to limited availability of this product, there is an additional shipping fee of that will be added during checkout.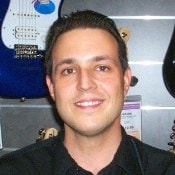 Description

Meet the Plethora X5
As soon as you unbox Plethora you've got a whole bunch of tasty premade boards ready to go. No fuss. If you have a specific idea about what you need, take it one step further and choose which pedals go where on your board.

Or go all-in and get your hands dirty with our proprietary TonePrint technology, letting you customize each pedal in-depth for a truly unique setup! You decide how far you want to go.

• Create a bunch of BOARDS
• Populate them with any of the TC TonePrint PEDALS
• Load each PEDAL with any TONEPRINT from our library or create your own

Setting up a nice pedalboard takes time. Planning, measuring, figuring out combined current draw, and cutting Velcro, all before organizing cables and power cords in a way that doesn't look like the aftermath of a minor apocalyptic event. Trust us – we've built a LOT of pedalboards!

Well it doesn't have to be that hard. Plethora X5 makes the entire board building experience much more intuitive and fun.

With the ability to create and store up to 127 custom boards, tailored to your needs, you'll never run out of tones.

Populate each of the boards with any TonePrint pedal combo.

Plethora X5 lets you combine up to 5 TonePrint pedals of your choice and arrange them in any order you need on each of the boards.

This is your chance to make the Flash of Fame combined delay/reverb pedal you've been craving, with an extra side of modulation and pitch shifting for a truly massive tone!

It's all of your favorite TC stomps in one unit that will satisfy all of your needs for pitch tracking, studio-grade compression, sultry modulation, unobtrusive noise gating, toneful reverb, epic delay and more.

Each pedal in Plethora X5 has 75 TonePrint slots available for quick recall of your favorite settings, letting you collate and store a list of your favorite sounds for safe keeping.

Dial in and store a cornucopia of unique TonePrints tailor-made to your personal gear setup and have a whole host of iconic tones ready for your next jam session made by the greatest musicians in the world!
Features
Highly-flexible TonePrint pedal board with simple, intuitive controls
Create and customize up to 127 custom boards with any combination of TonePrint pedals
Populate each BOARD with up to 5 pedals including all TonePrint FX
Store up to 75 TonePrints per FX for fast and easy recallFX include Hall Of Fame 2 Reverb, Flashback 2 Delay, Sub n Up Octaver, Brainwaves Pitch Shifter, Corona Chorus, Hypergravity Compressor, Mimiq Doubler, Vortex Flanger, Pipeline Tap Tremolo, Quintessence Harmony, Sentry Noise Gate, Shaker Vibrato
Customizable FX signal chain on each board
MASH technology turns all 5 footswitches into expression controllers with customizable mapping
Added MASH functionality to all legacy Toneprint Pedals
FX loop insert with customizable routing to integrate external pedals or connect to your amp using 4-cable method
Includes built-in UniTune chromatic tuner
Global speaker cab-sim for direct play with audio interface and PA systems
Bluetooth connection to the free TonePrint App to import tones from our vast library of TonePrints
Use the free TonePrint App editor to access hundreds of effects parameters and design custom TonePrints
Organize boards quickly using the free TonePrint App
EXP input – assign an external expression pedal to control FX parameters or use as a volume pedal anywhere in the signal chain
Optional Tap Tempo for tim1X
Simple 3 knob control over each pedal for fast FX tweaking
'Quick Swap' feature to instantly reorganize your signal chain
Automatically saves your settings as you go
MIDI IN for selecting boards from external devices
Full stereo I/O with low noise and high levels of headroom
Regular firmware updates to include new boards, new pedals, new TonePrints and some top secret exclusive stuff
3-Year Warranty Program*
Designed and engineered in Denmark