Subwoofers: What Do They Do?
The job of a subwoofer is to handle the low/bass end of the sound spectrum. You use them along with your main speakers. If you used a subwoofer on its own, you would only hear the low end rumbling part of your music with little to no vocals or instruments that are in the upper registers.
The added benefit of adding subwoofers to your system is that since they are handling the low end [which requires quite a bit of power] your main speakers are free to use their power for the mid-range and high end which gives you a cleaner and more professional sound.
Do I Need a Subwoofer?
If you notice a lack of low end and fullness in your sound then your PA system could most likely use subwoofers. Most professional sound systems have subwoofers as they are needed to provide a full frequency musical experience. If you are using your PA in a small room [for example a bedroom in your house for rehearsal] then you would usually not want to add a sub as it would fill the room with too much low end and give you a muddy sound. Any time that you are playing outdoors or in a medium to large room you will almost always want to use a subwoofer so that you can reproduce the low frequencies of the music being played.
Powered vs. Non Powered
Powered subwoofers [sometimes referred to as Active] have 2 distinct advantages over Non-Powered [or Passive] subwoofers. The first is that you do not need to lug around a separate amplifier [or the cables needed to connect that amp to the sub]. With a powered sub the amplifier is built in and is part of the sub. The second main advantage is that the amplifier that comes with a powered sub is built to work with that exact speaker. This means that you will get both maximum efficiency and better sound quality out of the subwoofer. A side benefit to this set up is that your speaker will invariably last much longer as it will not be under or over powered by an amp that is "pretty close" to the right wattage requirement.
What Sizes do they come in?
There are many powered subwoofer choices out today. The Yorkville Elite line of speakers is very popular in both the Live Sound and Church/School Crowd so we will focus on these as a representation of small to large subwoofer options.
The LS200P has a single 10 inch speaker and is only 55lbs. This sub is perfect for a traveling wedding DJ who needs to add some low end without taking up a ton of room: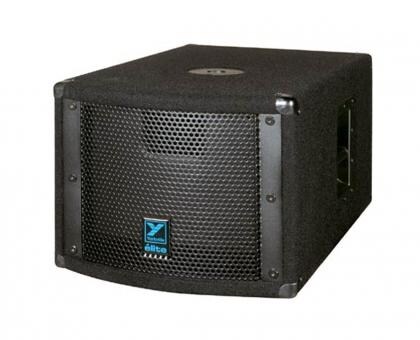 The LS701P doubles the power as well as includes an additional 10 inch speaker. For a mid-sized show, 2 of these and 2 top speakers will normally provide a nice balanced sound. The LS701P has a pole mount built into the top so that you can mount your main speakers right above the subs for a clean look that also helps combine your low and high frequencies: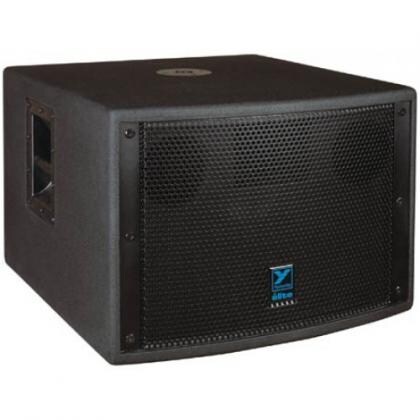 The LS720P has a 15 inch speaker and is a great sub for covering the low end in a medium to slightly larger PA set up such as live band would use. It has a 1200 watt amp and is only 75 lbs: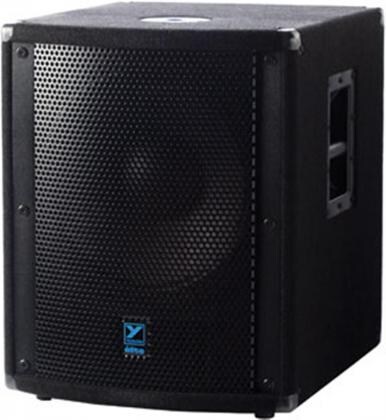 Next in line and one of the most popular and best-selling subwoofers is the LS801P. This is a favorite among professional sound engineers for its deep tone as well as with DJs for the hard hitting and solid bass it produces: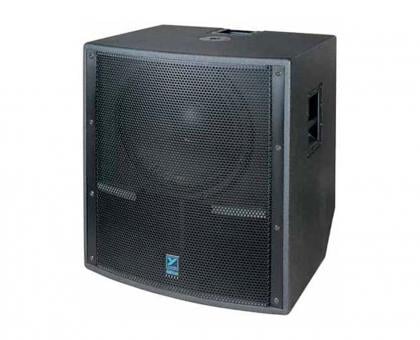 The ability to transform itself from warm natural bass to club thumping bass comes as a result of the built in Variable Boost Frequency selector. This lets you decide the shape of your low end between Deep and Loud or anywhere in between with the turn of a knob: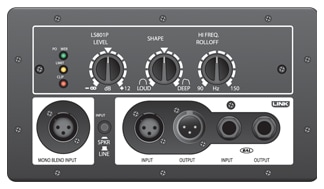 Larger subwoofers traditionally have either a 15 or 18 inch speaker. The 21 inch speaker on the LS2100P produces deeper lows than pretty much any sub on the market. If it is in your budget you surely won't be disappointed by the impressive low end it will add to your sound system. The main users of this sub like their bass BIG and LOW. The built in 3600 watt amp guarantees that those seriously low sub harmonic frequencies [this one goes down to 33(?!) Hz] will boom all night and keep the dance floor popping:
Here is a handy comparison Chart Showing the differences between the various Powered Yorkville Subs:
[All Amp power ratings are Peak power]
LS200P 600 Watt Amp Single 10 inch Speaker 50Hz – 110Hz Response 55 lbs
LS701P 1200 Watt Amp Dual 10 inch Speakers 45Hz – 125Hz Response 95 lbs
LS720P 1200 Watt Amp Single 15 inch Speaker 45Hz – 90Hz Response 75 lbs
LS801P 2500 Watt Amp Single 18 inch Speaker 45Hz – 150Hz Response 137 lbs
LS2100P 3600 Watt Amp Single 21 inch Speaker 33Hz – 150Hz Response 203 lbs
If you have any additional questions [such as how many subs would best work with your system] just call us at 1-877-778-7845 and we will be happy to provide you with the Free Audio Consultation that has made MusiciansBuy famous!
Keep Rocking!
- Chad Palmer
.