Strymon Cloudburst Reverb Pedal
Model #Z120-CLOUD
Free Shipping Over $99 Lower 48 States*
One Day Delivery to PA and FL!
No Tax Outside CA, FL and PA!
30-Day Guarantee!
Shipping Note: Due to size and/or weight specifications, there is an additional shipping fee of that will be added during checkout.
Shipping Note: Due to limited availability of this product, there is an additional shipping fee of that will be added during checkout.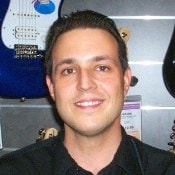 Description
FEATURES
Best sounding single reverb algorithm and providing a variety of natural-sounding studio quality spaces.
Ensemble effect for never-before heard sounds and is simple to use with just a few knobs and switch.
Decay knob does heavy lifting by controlling both duration of tail as well as character of sound
48 frequency bands to generate upper harmonic partials that vary depending on playing style.
Mix controls wet/dry mix
Pre-delay adds space between dry signal & reverb
Tone adjusts high frequencies within reverberation
Modulation creates lush effects through modulated delay lines in combination with Ensemble effect.
MIDI implementation allows remote control over parameters via EXP/MIDI jack or USB connection
True bypass or buffered bypass can be chosen according to user preference
JFET input provides uncompromised dynamics & feel along w stereo in/out capabilities enabled through TRS jacks on rear panel Input switch set for either mono (TS) or stereo (TRS).
---
DESCRIPTION
Boasting an array of impressive features in a compact, easy-to-operate form factor, the Strymon Cloudburst Ambient Reverb is designed for players who crave powerful soundscapes. Its ARM processor and Ensemble Effect provide unprecedented control over your tone while full stereo compatibility offers maximum flexibility when it comes to routing options. With five knobs that allow you to effortlessly dial up intricate reverb units from 1 - 50 seconds of decay time combined with Predelay settings, Tone adjustments via the dedicated Treble knob and Mod controls allowing you customize your modulation depth and speed--the sonic possibilities are truly endless!
---
SPECIFICATIONS
DECAY: Controls the duration of the reverberated signal's decay. Lower settings reduce the size of the reverberated space
ENSEMBLE: Sets the amount of ensemble harmonics added to the reverb input
MIX: Controls the reverb mix from full dry at minimum to full wet at maximum. A 50/50 mix occurs at approximately 3 o'clock on the knob. Additional power-up options allow for kill-dry (for use in effects loops) as well as an analog dry path option.
PRE-DELAY: Sets the amount of time before the reverberated signal appears. For most natural results, use lower MIX settings when using higher PRE-DELAY
TONE: Adjusts the high-end content of the reverb. Lower settings create darker, warmer reverberation. Higher settings are bright and crisp. NOTE: Also affects the presence of the ENSEMBLE effect.
MOD: Controls the modulation of the reverb delay lines to create a variety of lush effects. Turning the knob clockwise from minimum increases modulation depth for the first half of the knob's range. Continuing to turn the knob past its halfway point increases the speed of the modulation.
FOOTSWITCH: Engages and bypasses effect. RED LED indicates the effect is engaged.
I/O MODE SELECTOR: mono (mono input, mono output); mono stereo (mono input, stereo output); stereo (stereo input, stereo output) - note: Stereo operation requires a TRS adapter or cable
IN: High impedance, ultra low-noise, discrete Class A JFET preamp input. TRS adapter cable required for stereo input signal
OUTPUTS: Low impedance stereo TRS output. Use TS for mono output or TRS for stereo output
EXP/MIDI: Multifunction communication jack for external control of Cloudburst's features and functions. Use a standard TRS expression pedal for continuous control over the knobs of the pedal (default setting). Can be set to operate in one of five modes: Expression Pedal, Favorite, Freeze, Infinite, or MIDI Mode. See User Manual for details
USB-C: Computer connection for controlling via MIDI and for performing firmware updates
9VDC: Use the included power supply or an adapter with the following rating: 9VDC, center negative, 250mA minimum