Propellerhead Record DAW Recording Software
Model #99-101-0016
Free Shipping Over $99 Lower 48 States*
One Day Delivery to PA and FL!
No Tax Outside CA, FL and PA!
30-Day Guarantee!
Shipping Note: Due to size and/or weight specifications, there is an additional shipping fee of that will be added during checkout.
Shipping Note: Due to limited availability of this product, there is an additional shipping fee of that will be added during checkout.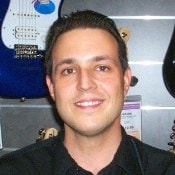 Description

Propellerhead Record combines recording and an ultra high-class mixer console with a limitless rack of audio processing gear that can build itself or be tweaked to your heart's content.
To help you arrange your tracks in a smooth, effortless way, Record comes with a fast and flexible sequencer. Immediate and intuitive, Record's sequencer puts you in control of your arrangements, letting you move and edit parts as you go along, while Record's comping editor lets you effortlessly edit your takes into the single best performance.

Record's software mixer's sound is faithfully modeled after* the legendary SSL 9000K hardware. Flexible routing, full dynamics, EQ, advanced effects handling, full automation and a 64-bit mix bus gives you that big studio sound.

For guitar players, the built-in virtual POD from Line 6, Inc brings a wide range of top quality guitar amps, cabinets and effects. With its state-of-the-art dynamic multicore audio handling, Record will use your computer's processing power to its fullest, so you'll never have worry about track counts or adding that extra reverb or delay.

New in Record 1.5 Blocks provide a very fast way of creating a musical structure for your song. But the options don't end there. With the basic arrangement laid out, you can see the contents of the blocks and create variations and mute individual parts, or add further musical elements in song mode.

You never have to commit to using either mode - you are free to move back and forth between Blocks and Song mode, and any changes you make in your Blocks will instantly be manifested in all instances of that Block. Need some tambourine on that chorus? Add it, and there will be tambourine whenever the chorus block is playing.

Getting a vocal performance right means so much more than hitting the right notes at the right time. Sometimes you get that almost perfect performance with perfect feel and presence, but the singer might have missed a few notes. That's when Neptune can save the day. Neptune is an advanced pitch adjuster, audio transposer and voice synth for Record 1.5.

As a pitch adjuster, Neptune will fine-tune the pitch of an audio track to help getting your vocal performances just right. Neptune will fix the flat notes with an unbelievable audio quality . You can select a root key and a scale that you want the adjuster to use, or create a scale that fits your song. And, yes. By cranking the pitch adjustment settings to the max, you can get that effect sound too.

Perhaps the most creative-sparking function in Neptune is the voice synth. Play your MIDI keyboard and Neptune will create new harmonies from your vocal tracks in real time, or use it without the original voice to completely change the melody of the song. Endless creative options!