Spider IV guitar amplifiers redefine what is sonically possible from modeling amplifiers. Feast your ears on the sophisticated touch response, complex distortions, and tube-style compression of the most advanced Line 6 amp modeling to date.
Inspired by the sounds of immortal American, British and European amplifiers, (and inspired by the features that made Spider III amplifiers the #1-selling guitar amps in the country*) Spider IV amps grant you unlimited access to sparkling clean tones, rich mid-range tones on the verge of breakup, high-gain metal mayhem and more. Plus you get stunning presets, juicy effects and the unparalleled flexibility that made Line 6 famous.
Spider IV 15 delivers a perfectly distilled collection of celebrated American and British amp tones. With one-touch ease, access the 4 absolutely essential amp models that every guitarist needs.
Inspired by the features that made Spider III 15 the best-selling guitar amp in the U.S.*, Spider IV 15 boasts celebrated amp tones, 6 inspiring effects that add exceptional colors and textures, a built-in tuner, a three-band EQ section for tone-shaping control and more.
A wolf in sheep's clothing, Spider IV 15 sounds ferocious at low volumes as well as cranked to 11. Plus, value-packed, it puts pro sounds and into a lightweight box that's small enough to tuck under your bed or desk.
AMP MODELS
From sparkling clean tones to high-gain metal tones and beyond, Spider IV 15 delivers a perfectly distilled collection of history's most celebrated guitar tones.
The wide range of tones starts strong with a bright and distinctive American clean tone and then opens gradually to achieve the vintage grit and chime of classic British amplifiers. Experience the infamous "Brown" sound distortion, which is based on* a '68 Marshall Plexi 100 with a Variac and jumped input channels, and a searing high-gain tone based on* a Mesa/Boogie Dual Rectifier.
Each of the four Spider IV 15 amp models provides an exceptional guitar playing experience that you won't soon forget.
Channel A
Channel A delivers crisp clean tones, warm jazz tones and all the high-end shimmer you'll need with a generous amount of bottom end.
Channel B
Channel B conjures the infamous "Brown sound" inspired by* a '68 Marshall Plexi 100-watt with a Variac and jumped input channels.
Channel C
A one-way ticket to tight and punchy high-gain heaven, Channel C is inspired by* the high-gain tone of a Mesa/Boogie Dual Rectifier.
Channel D
Dialed in for shredding, Channel D combines the intensity and impact of Metal Red but it delivers more mid-range teeth for that bone-crushing grind. Inspired by* the tone of a Mesa/Boogie Dual Rectifier (red channel).
SMART FX
Color your tone with the unprecedented control of Line 6 Smart FX. Start smart with 6 exceptional Echoes, tangy Mods, a syrupy-sweet Reverb, and more. Simply find the effect you want, turn the knob to the desired intensity and you're done.Plus, Tap Tempo syncs all your time-based effects. Explore the sonic palette with up to two effects at once!
Spider IV 15 features 6 Smart FX including a vibey Chorus/Flange, Phaser, Tremolo, Sweep Echo, Tape Echo, and Reverb. Easily add color and texture to your tone.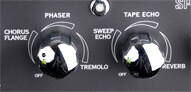 SOUNDS
4 channels of user-created presets
6 Smart FX (up to 2 at once)
Bass, Mid and Treble knobs
HARDWARE
INS AND OUTS
1/4-inch headphone out/direct out
DIMENSIONS