Line 6 FBV Express MkII Foot Controller
Model #99-040-0814
Free Shipping Over $99 Lower 48 States*
One Day Delivery to PA and FL!
No Tax Outside CA, FL and PA!
30-Day Guarantee!
Shipping Note: Due to size and/or weight specifications, there is an additional shipping fee of that will be added during checkout.
Shipping Note: Due to limited availability of this product, there is an additional shipping fee of that will be added during checkout.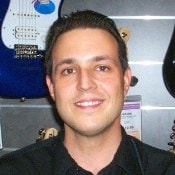 Description
Tough enough for arena stages yet small enough to fit in your backpack,FBV Express? MkII delivers a crucial collection of hands-freefunctionality that will keep you at the foot of the stage instead oftied to the front of your Line 6 amp or POD.
FOUR ON THE FLOOR
FBV Express MkII delivers out-of-the box, plug-n-play connectivity.Stomp the four steel footswitches to quickly store and select channelpresets, synchronize your time-based effects with Tap Tempo, activatethe chromatic tuner, and more.
When paired with most Spider IV and Spider Valve? MkII guitaramplifiers, the footswitches also give you total control of Quick Loop,the amps' built-in 14-second sound-on-sound looper.
The burly, full-sized volume/wah pedal feels solid under your foot andfeatures plenty of grip. Clicking the toe-switch toggles between volumeand wah control (with an illuminated LED to match).
The bright and easy-to-read LCD shows tap tempo, active channel and the chromatic tuner (when activated).
FEATURES
Hands-free channel switching and more for most Line 6 amps and POD processors
4 channel switches: A, B, C and D
Full-sized volume/wah pedal features plenty of grip
Chromatic tuner display
Bright LEDs show active channel, tap tempo and volume/wah
FBV Control software allows for easy and unlimited mapping of FBV controls via USB (Mac/PC)
Durable footswitches and chassis
Self-powered via included locking RJ-45 cable
USB jack and RJ-45 jack


FBV CONTROL SOFTWARE
Take full advantage of FBV Express MkII with the free and downloadableFBV Control software. The application shows you a graphicalrepresentation of your FBV Express MkII and lets you customize the midicommands you send via USB.
Assign the footswitches and pedal to perform MIDI CCs, bank changes,program changes and even transport commands to drive many popular audioapplications including ProTools, Propellerhead Reason and Record, andmore!
Create and save endless variations - a few for gigs, a few for thestudio - and easily add them to your FBV Express MkII via USB.
Compatible with:
Spider IV
Spider Valve MkII
Flextone III
HD147
Vetta II
LowDown
POD X3
POD X3 Pro
POD xt
POD 2.0
Spider III
Spider II
Spider Valve
Vetta
POD xt Pro
Bass POD xt
Bass POD xt Pro