iConnectivity PlayAUDIO 12 Audio Outerface
The simple, scaleable, and fail-proof live playback interface you've been waiting for.
Model #PLAYAUDIO12
Free Shipping Over $99 Lower 48 States*
One Day Delivery to PA and FL!
No Tax Outside CA, FL and PA!
30-Day Guarantee!
Shipping Note: Due to size and/or weight specifications, there is an additional shipping fee of that will be added during checkout.
Shipping Note: Due to limited availability of this product, there is an additional shipping fee of that will be added during checkout.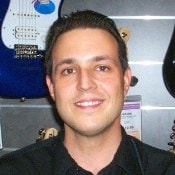 Description

For those who rely on live computer audio & MIDI, and need a bulletproof, fail-proof solution for control and playback of backing tracks, virtual instruments or anything else you can think of, PlayAUDIO12 is the solution.

PlayAUDIO12 won't let you down. Designed by touring musicians and engineers, PlayAUDIO12 is purpose-built for professional on-stage use. Your audience won't accept compromises, and now you don't have to either.

12 ultra-low noise outputs bring studio quality interfacing to the live arena. Need more outputs? No problem! PlayAUDIO12 is easily linked with additional PlayAUDIO12 interfaces, giving you connectivity which grows with the needs of your production.

PlayAUDIO12 enables you to add a second computer for redundancy / failover protection. PlayAUDIO12 automatically detects if a computer fails and, in a flash, automatically switches to another synchronized computer.
Forget the expensive, complex systems that have gone before, PlayAUDIO12 does it all seamlessly in one compact, elegant, and affordable box. With PlayAUDIO12 you need never suffer the embarrassment of a silent show, ever again.

At iConnectivity, we're world leaders and innovators in MIDI connectivity, and we've put everything we know about MIDI into the PlayAUDIO12.

Connect up to 8 MIDI Class Compliant controllers and sound modules, or even more MIDI interfaces using the unique iConnectivity USB MIDI Host port.

Create a MIDI network across long distances using the built-in PA12 Ethernet interface, ideal for large stages.

PlayAUDIO12 puts MIDI control over your performance how and where you need it.

What Makes PlayAUDIO12 Unique?
Other audio interfaces: Designed for recording audio in a studio environment. Support for only one computer.

The PlayAUDIO12 difference
More power to perform:
Designed for live use.
Fail-safe performance with multi-computer auto switching.
MIDI integration that puts MIDI control how and where you need it
It's the iConnectivity uncompromising design.