Ibanez AEL108TDNT 8 String Acoustic Electric Guitar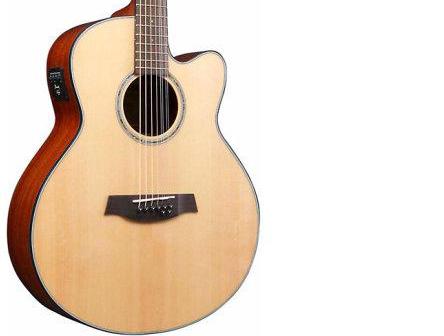 Model #AEL108TDNT
Free Shipping Over $99*
No Tax Outside CA, FL and PA!
30-Day Guarantee!
Note: due to the size of this item it does not qualify for free shipping.
Description
The AEL108TDNT is an AEL body acoustic/electric 8-string guitar with the B and high E string doubled. This configuration produces a natural chorus effect and accentuates the ringing sound of a 12-string, while eliminating the sonic clutter of higher octave tones on the lower 4 strings. It also permits the player to easily execute clean mid/bass runs on the G, D, A and low E strings and liberates them from the occasionally cumbersome performance challenges of a traditional 12-string. While this feature is usually only found on high-end boutique instruments, the AEL108TDNT is a surprisingly affordable acoustic, inviting more players than ever to experience this unique string arrangement and the creative opportunities it affords. The AEL108TDNT features a Spruce top, Mahogany back & sides, and Rosewood fret board and bridge. Electronics include a Fishman Sonicore pickup and an AEQ-SP2 preamp for complete tone control, plus an onboard tuner for quick, discreet tuning. Other features include chrome Die-Cast tuners, Ibanez Advantage bridge pins, a beautiful Abalone rosette and a high gloss natural finish.