Godin ACS Nylon Black Solid Body Guitar with Gig Bag
Model #32174
Free Shipping Over $99 Lower 48 States*
One Day Delivery to PA and FL!
No Tax Outside CA, FL and PA!
30-Day Guarantee!
Shipping Note: Due to size and/or weight specifications, there is an additional shipping fee of that will be added during checkout.
Shipping Note: Due to limited availability of this product, there is an additional shipping fee of that will be added during checkout.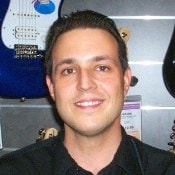 Description
Includes VBGAC Gig Bag
The Multiac Series instruments are nylon and steel strung acoustic guitars designed to meet the demands of modern performing and recording. Designed to be plugged in, these guitars feature the very best acoustic guitar electronics impeccably integrated in these new concept instruments
Synth Access
ACS-SA, Two-voice
The ACS blends classical guitar concepts with elements of solid body design. The incredibly comfortable neck from the Multiac Nylon is used here with a Maple body to achieve our most affordable synth access guitar ever. Although the body is chambered, response from the maple top is more typical of a solid body design than that of a traditional acoustic guitar. This design results in an instrument that is virtually free of feedback, making it easy to use even when the band gets loud.
Electronics
The engine in both the ACS-SA & ACS-SA Slim includes individual transducer saddles powered by a customized preamp system from the RMCTM Pickup Company. This system not only produces superb amplified sound, but also produces a hexaphonic output through a 13-pin connector enabling direct access to RolandTM GR-Series guitar synthesizers.
Synth Access
The first Multiac Nylon prototypes were already nearing completion when we became intrigued by the possibilities presented by Roland's GR-1 guitar synth system. Guitars had already been triggering synths for many years but they were either very expensive and not really guitars but guitar-like triggering devices or they just didn't work very well. The GR-1 made the guitar/synth connection available to guitar players of all budgets and abilities. However, using the GR still involved attaching a significant amount of hardware to your existing guitar. So we began experimenting with the idea of a guitar built from the ground up with synth tracking in mind. Our old friend Richard McLish of the RMC pickup company already had developed a hexaphonic pickup and preamp system called the RMC Polydrive and we asked him to work on a version of his system customized for our new guitar, which we called the Multiac. Richard's system worked beautifully, however, we discovered that we could impact the tracking of the system with fundamental changes to the guitar itself. Bracing, scale length, string tension and wood selection all had some effect on the response time (tracking) of the synth. After about twelve prototypes we not only had achieved superb guitar synth tracking but we'd done it in a nylon string guitar. Several years have passed since the first Multiac made its debut and we continue to refine our designs and explore new possibilities such as the new Multiac Fretless. There are now nine Godin models that include synth access.