Godin A11 Glissentar Fretless in Natural Semi-Gloss
Model #17706
Free Shipping Over $99 Lower 48 States*
One Day Delivery to PA and FL!
No Tax Outside CA, FL and PA!
30-Day Guarantee!
Shipping Note: Due to size and/or weight specifications, there is an additional shipping fee of that will be added during checkout.
Shipping Note: Due to limited availability of this product, there is an additional shipping fee of that will be added during checkout.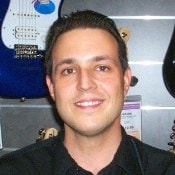 Description
The A-series instruments produce very authentic acoustic sound and feature the dimensions and comfort of play that used to be the sole domain of solid body electric instruments
Glissentar - 11 string fretless nylon
In a nutshell, it's an eleven string, fretless, acoustic/electric instrument, strung with nylon strings and tuned to standard guitar tuning. More than ever before, musicians are mixing sounds and musical styles from all over the world. This often involves the mixing of Eastern and Western music, such as using a Sitar in a western musical setting or using western instruments to imitate the sounds in eastern music. The Glissentar was inspired by a similar desire to mix elements of East and West, but in this case, in the instrument itself. The Western part of the equation is easy to recognize as a variation on the guitar. All of the instruments basic dimensions, scale length, body size, depth, fingerboard radius, and string height, are fairly standard for acoustic/electric guitars. The Eastern influence in the Glissentar comes from the Oud, an ancestor of the Mandolin that dates back to the seventh century. The Oud is also an eleven-string fretless instrument and is still in use today primarily in Armenia and Egypt. Adapting to this new instrument is actually a great deal easier than it appears. The shape and scale of the neck and the easily visible side position markers help to give the Glissentar a very familiar feel. The Glissentar opens the door to microtonal playing as well as some incredible and unique new sounds for adventurous guitar players.