Blackstar AMPED1 100-watt Guitar Amp Pedal
Combines the power of a 100W guitar amplifier with the versatility of a high-end preamp and power amp model.
Model #AMPED1
Free Shipping Over $99 Lower 48 States*
One Day Delivery to PA and FL!
No Tax Outside CA, FL and PA!
30-Day Guarantee!
Shipping Note: Due to size and/or weight specifications, there is an additional shipping fee of that will be added during checkout.
Shipping Note: Due to limited availability of this product, there is an additional shipping fee of that will be added during checkout.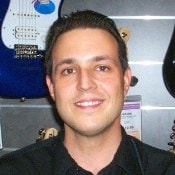 Description
Combining the power of a 100W guitar amplifier with the versatility of a high-end preamp and power amp modeler, the AMPED 1 100W Guitar Amp Pedal from Blackstar is a potent and compact floor amp that can truly be taken anywhere. Designed to simplify your pedalboard setup or provide an ultra-portable desktop audio interface, the AMPED 1 comes with enough output power and I/O to handle nearly any playing scenario, whether it be stage, studio, or simply home practice.
The AMPED 1 comes armed with copious connection options including a balanced DI output, mono FX loop, MIDI and digital audio, as well as separate outputs for 8- or 16-Ohm speakers, just to name a few. When you need to adjust your power output for different playing situations, amp power can be lowered from 100W all the way down to 1W, perfect for practicing at home or studio recording. This pedal is performance ready with seven knobs, built-in reverb (including "freeze"), multiple DSP cab, tube voice, and response presets, and even two power outputs for powering other pedals in your board setup.
The AMPED 1 is an impressively powerful amp pedal that is small enough to fit on any desktop or pedalboard, yet powerful enough to drive serious output levels and serve as a replacement for bulky amp heads or combos during performances. With a maximum output of 100W and some unique I/O, the AMPED 1 sits comfortably in large pedalboard setups and provides high headroom and impedance for a wide range of performance environments and amp tones.
Selectable 1W, 20W, or 100W outputs
Three preamp voices and six power amp responses for great versatility
Flat preamp voice allows players to use AMPED 1 as a power amp and cab sim for their own amp modelers
IEC power input with on/off toggle switch
Two extra 9V 500mA power outputs for powering up to two other pedals
The AMPED 1 comes jam packed with a wide range of I/O, more than the average amp pedal, allowing the stompbox to handle nearly any scenario from live performances to home recording, or silent practice.
1/4" instrument input, 1/4" stereo headphone/line output
Two 1/4" speaker outputs, one for 8-ohm speakers and one for 16-ohm speakers (use only one at a time)
One 1/4" effect loop insert for integration into pedalboard loops
One balanced XLR DI output to feed mixers and PA systems
One 3.5mm MIDI input
One digital USB Type-C output for use as a desktop audio interface
Despite its compact size, the AMPED 1 provides plenty of onboard controls to ensure any player can dial in their preferred amp tone while enabling some extra options to maximize performance options.
Seven knobs including gain control, master volume, tone control (bass, mid, treble), IR response, and reverb
Three switches for voice type (USA, UK, flat), power output, and Cab Rig presets
Two footswitches for preset selection and reverb activation, including freeze type reverb
Dedicated level control knob for XLR DI output
The AMPED 1 features advanced digital output control via USB Type-C and the integrated Cab Rig, a powerful DSP cabinet simulator. Use the convenient USB connection to turn your amp pedal into a full-fledged audio interface and desktop amplifier, allowing for any guitarist to easily achieve a completely self-contained setup. Three quality Cab Rig presets are available, controlled by a switch on the side, providing even further sonic flexibility for your amp tones.