If you have done any research looking for a top guitar in the $300 - $500 range you have likely seen the Seagull S6 come up again and again. Seagull guitars are known for their very fair price and excellent sound that stands up to guitars costing twice as much. They are made in Canada in La Patrie [a small village in Quebec.] This is where the first Seagulls were made over 30 years ago. Today, La Patrie has a population of about 750 and hundreds of them are guitar builders. These folks are serious about the guitars they build.
So what makes these guitars so great?
To start with - the Solid Cedar Top is one of the secrets of the Seagull S6 sound.
The vibration of a guitars top is one of the most important factors in its sound. Cheaper guitars use what is called a laminate top. While totally acceptable as sides or back – laminate tops just don't have the natural vibration qualities that you will find in a solid top.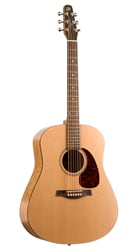 Cedar Top vs Spruce Top? What is the big deal?
Spruce is one of the main types of tonewood used today on solid top guitars. Having a Cedar Top instead of a Spruce Top is one of the things that make the Seagull S6 stand out from the crowd. Cedar tends to have a nice warm tone that ages well. What this means is that the more you play your guitar, the better it will sound over time. Couple this with Canadian Wild Cherry back and sides and you have a terrific sounding guitar for playing live, strumming with friends or for recording.
If you already own a Cedar Top guitar or just like the look/sound of Mahogany you will be happy to know that Seagull now offers an S6 in Mahogany. Like the other S6 models this one has a Silver Leaf Maple neck with dual action truss rod.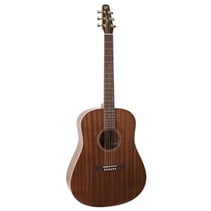 What is this Slim version I keep hearing about?
The Original S6 has a nut width of 1.8 inches. If you have smaller hands or normal guitar necks feel just a bit too big for you the Seagull S6 Slim is your best choice. With a 1.72 inch nut instead of 1.8 it is just enough of a difference to feel comfortable with sacrificing any tone. Another way to tell them apart is the Slim version has cream colored binding where the top and sides meet.


Left Handed? No problem! Seagull has you covered.
Want one with a pickup? No problem! Seagull has you covered.
The Seagull S6 finds its way to most Top Guitar Model Lists for a reason. These guitars feel great, play great and sound great. Call one of our guitar pro's now at 1-877-778-7845 to get your Seagull S6 on the way!
Click HERE to shop all of our Acoustic Guitars