Line 6 HD500X Multi-FX
Model #99-060-1805
Free Shipping Over $99 Lower 48 States*
One Day Delivery to PA and FL!
No Tax Outside CA, FL and PA!
30-Day Guarantee!
Shipping Note: Due to size and/or weight specifications, there is an additional shipping fee of that will be added during checkout.
Shipping Note: Due to limited availability of this product, there is an additional shipping fee of that will be added during checkout.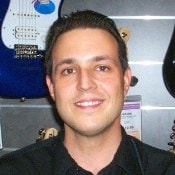 Description
Revolutionary HD modeling.
The POD HD500 from Line 6 is a multi-effect pedal that contains 16 state-of-the-art Line 6 HD amplifier models, more than 100 modern and vintage-styled M-class effects, and a great quality set of digital and analog I/O. The HD modeling captures the genuine playability that guitarists demand.
Based on new technology, the models use 10-times more amplifier information than before, including single-ended Class A tube stages, Class AB push/pull interactions, power supply behavior, and more. The result is unprecedented, warmth, feel, sustain and articulation.
Up to eight of the over 100 M-class effects can be used simultaneously. The unit offers flexibility to mix and match amplifiers and pedals in multiple preset rigs, the ability to recall at the stomp of a switch. Additionally, the POD HD500 functions as a fully featured looping, pitch shifting and harmonizing effects generator. The unit also allows for "Dual Tone" operation, where the signal can be routed through two different chains of models.
The included editor/librarian software is easy to use, making it a snap to quickly dial in a desired tone. Comprehensive connectivity makes the pedal board equally suitable for live and studio use. The POD HD500 can connect to just about anything - analog or digital, balanced or unbalanced, for amplification or recording.
Stereo send and return jacks are available for adding additional external effects. A microphone input with trim is included, as is MIDI I/O, a 1/4" auxiliary input, Variax digital in, and an RCA coaxial S/PDIF digital output.
Finally, the unit is built like a tank with bent sheet metal housing and heavy-duty metal foot switches and expression pedal. No injection-molded plastic boxes here - the POD HD500 is ready to lap up years of road and stage abuse.
Specifications
• HD amplifier models feel, behave, and interact with previously unachievable realism for an entirely new playing experience
• 16 HD amp models based on the most sought-after guitar tones - California cleans, classic crunch, vibey boutique warmth, modern high-gain, and more;
• 512 user-writable preset locations
• 100+ effects including delays, modulations, distortions, compressors, EQs, filters, and reverbs
• 19 delays (including cool tube and solid-state tape echoes)
• 23 modulations (including both blackface-style opto and brownface bias-modulating tremolo, phasers, choruses, and rotary speakers)
• 17 distortions (classic stompbox distortion, to vintage fuzz, to thick metal chunk)
• 12 compressors and EQs (including stomp comps and studio tube compression)
• 26 filters (including wahs and several exclusive custom filters)
• 12 reverbs (from surfy springs, to studio plates, to cutting-edge digital room sounds)
• 8 simultaneous FX with "Dual Tone" functionality
• Tap tempo
• 48-second looper with dedicated footswitches for Play Once, Pre/Post, Rec/Overdub, and Play/Stop
• Built-in tuner with signal mute
• 1/4" and XLR outputs (mono/stereo)
• 1/4" headphone output
• Coaxial S/PDIF output (clean signal for recording to a DAW for later reamping or processing)
• Stereo send and return loop connectors
• XLR microphone input with trim
• Variax digital in
• Secondary expression pedal input
• MIDI I/O
• L6 LINK jack for seamless integration with Line 6 DT50 tube amplifiers
• MP3/CD input
• Free editor/librarian software
• Bent sheet metal chassis, metal footswitches and expression pedal