"Wood" it matter if I picked Maple or Birch? Drum shell differences and how to choose.
Introduction:
Poplar, Maple, Birch, Mahogany, Bubinga... the list goes on and on! How could we ever decide which drum set shell is best for me?
Of course our budget can play a major part in our decision, and it is very important to note that whether you have an entry level drum set or a high end drum set, tuning and drum heads will play a major part in getting your drum set to sound good. With that said, let's explore some of the varieties and understandings of the Top 3 shell types.
Poplar Drum Shells:
Found in the Eastern United States, Poplar has been used in making drums for over 50 years!
It is an extremely economical and inexpensive wood, especially in the United States where it naturally grows. Poplar is very easy to work in almost all regards making it a great choice for creating drum shells and producing economical drum sets. Another good component of Poplar is that it is rated as being moderately durable. When used for creating drum shells, Poplar is known to produce a warm, full tone with a medium attack. If you are looking for an affordable drum set, while offering durability, tone and a professional look than a Poplar drum set may be the right fit for you!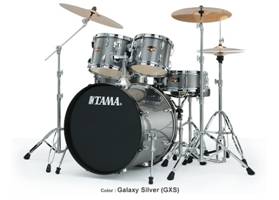 Birch Drum Shells:
Found in the Northeastern United States, Birch wood is best known for its additional "attack" or boosted highs in frequency.
Birch wood is also listed as a more economical wood but is ranked higher than Poplar and in the rankings of Maple and Mahogany. Birch wood is durable, easily worked and is one of the most widely used woods worldwide for doors, furniture and paneling. For your drum shells, Birch wood is carefully selected and molded for both mid and high end drum sets. Birch wood drum shells have been described in delivering boosted high frequencies, slightly reduced mids, and a good low end punch. If you are looking for a mid to high end drum set, with extra focus and cut, than a Birch wood drum set may be for you!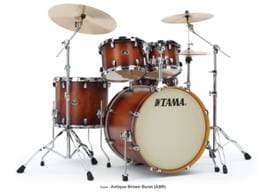 Maple Drum Shells:
Found in Northeastern North America, Maple is one of the most popular and traditional woods used for drum shells for years.
In a similar class as Birch and Mahogany, Maple is moderately priced, though slightly more expensive and as well, can come in a few varieties such as birdseye, curl, or quilt. Maple is known to be used for flooring (basketball courts, dance floors, bowling alleys), baseball bats, butcher blocks and MANY musical instruments. Maple drum shells have been the "industry standard" for many years and for many reasons. One primary reason is the tone that it delivers which is simply explained as "even" which is appreciated for live and studio presentation. Maple drum shells have been described as having a bright open tone while delivering warmth, rich dynamics, stunning attack, smooth midrange and a great low end punch. If you are looking for the ultimate "near-field" experience and a full powerful tone, Maple shells be just the right fit for you!