Digitech HardWire TL-2 Metal Distortion
Model #TL2
Free Shipping Over $99 Lower 48 States*
One Day Delivery to PA and FL!
No Tax Outside CA, FL and PA!
30-Day Guarantee!
Shipping Note: Due to size and/or weight specifications, there is an additional shipping fee of that will be added during checkout.
Shipping Note: Due to limited availability of this product, there is an additional shipping fee of that will be added during checkout.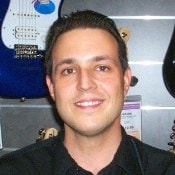 Description
Unleash raw gain with the TL-2 Metal Distortion.
The TL-2 Metal Distortion has two high-gain amp tone circuits at your disposal. Tight Mode gives you a responsive, percussive low end with smooth high frequencies. Loose Mode features a low EQ that best suits detuned guitars and produces a massive amount of low end thump. As with all HardWire pedals, the TL-2 is crafted from premium all-metal components to perform night after night, tour after tour.
Superior Technology ? Meticulous Craftsmanship ? True Innovation
True Bypass. HardWire pedals modify your guitar tone only when you want. HardWire pedals add pure effects when they?re on and don?t add noise when they?re off?truly the best of both worlds. And if you happen to lose power to HardWire pedals in the middle of a performance, you can keep playing because HardWire pedals switch to True Bypass mode until power is restored.

Higher Voltage . HardWire pedals preserve guitar tone because they operate at a significantly higher voltage than your standard pedals. HardWire pedals get the most out of hot guitar pickups and perform flawlessly in the high voltage environment of an amplifier effects loop.

Constant Voltage. HardWire pedals guarantee constant effects performance throughout the life of the battery and prevent tone loss because they operate at a steady voltage?independent of decaying battery voltage.

Tourworthy. HardWire pedals are designed for the touring musician. Unique Stomplock? guards prevent controls from being kicked and your tone from being changed. Each HardWire pedal includes custom-cut Velcro? pads to fasten it to a pedalboard and green gaffer tape for the actuator label and see the pedal in the most adverse stage lighting conditions.
Features
2 Modes of operation: Tight and Loose

Tight Mode has a tight, percussive low end
Loose Mode suits detuned guitars

True Bypass circuitry preserves your tone in bypass
Constant high-voltage operation for tonal quality and noise reduction
HardWire Pedals include the following stage accessories

Stomplock? knob guards lock your tone in place and prevent tampering or accidental knob adjustments onstage
Green gaffer tape helps you locate the pedal in adverse stage lighting
Custom-cut Velcro? pads attach and lock your pedals to your pedalboard
Specifications
Inputs/Outputs
Instrument/Guitar Input: 1/4? Unbalanced (Tip-Sleeve)
Input Impedance: 1 MOhms
Output: ? Unbalanced (Tip-Sleeve)
Power
US and Canada: 120 VAC, 60 Hz Adapter: PS200R - 120
Japan: 100 VAC, 50/60 Hz Adapter: PS200R - 100
Europe: 230 VAC, 50 Hz Adapter: PS200R - 230
UK: 240 VAC, 50 Hz Adapter: PS200R - 240
Power Input: 9 VDC 200mA
Power Consumption: 1.8 Watts
Battery Type: Single 9 VDC
Battery Life: 20 Hours
General
Dimensions: 4? Width x 5.5? Length x 2.6? Height
Weight: 1.3 lbs