Digital Mixers: What is the Big Deal?
Let's start with the basics. A mixer is used to combine the sounds of all of the musicians on stage and serves as the main hub to control your sound levels. Mixers come in different configurations but here are some basic functions that most mixers have the ability to control:
Volume – This is where you adjust levels of individual instruments so that there is a good balance between all of the musicians.
Mute/Solo – Mute will stop the sound on that channel from going to the speakers and Solo will only play what is soloed to the speakers.
Pan – This is where you adjust how much sound of each instrument comes out of each speaker.
EQ – This is where you make adjustments if needed to the low, mid and high end of the sound. An example would be adding a bit of high end to help a vocalist cut through the mix.
Main/Aux/Sub Outputs – In addition to having a main output that goes to your speakers, most mixers have additional outputs to send sound to areas other than the main speakers - such as monitors or recording equipment.
So if most mixers all have the ability to control these things then what is the big deal about Digital Mixers? One of the best advantages to a Digital Mixer is the fact that you can greatly reduce the size of the mixer without losing the ability to control many different signals. Since faders can control whichever channel you assign to it, you can use 1 fader to control many tracks. For example: Let's say you have 8 faders on your digital mixer but you have 24 inputs. Faders 1-8 would control Tracks 1-8 and then with the touch of a button the same faders would then control Channels 9-16 and with yet another button push you are controlling Channels 17-24.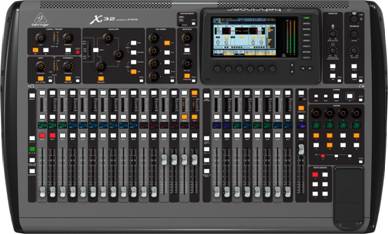 The Behringer X32 is one of the most popular Digital Mixers
Another benefit of Digital Mixers is be the ability to apply effects such as Reverb, Delay, Compression, EQ, etc on each individual channel. Many Digital Mixers also have the ability to do what are called snapshots. These are basically settings that you save so that you don't have to redo all of your settings each time you connect to the mixer. This is a big time saver since you can set up the mixer once and always have your favorite settings ready to go. You can have a setting for Band rehearsal, Choir rehearsal, only the microphones are used, etc. You can even save snapshots for individual songs so that certain effects are in line and ready to go.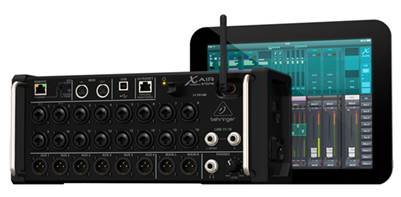 The new XR18 has wireless capability and be controlled via iPad
The latest trend in Digital Mixers is the ability to control your mixer with an iPad. This opens up all sorts of possibilities including being able to set your monitor mixes right from the stage without having to go back and forth to the mixer. You can also walk around the room to different areas and adjust the sound to be well balanced from the audience's perspective – not just the engineer's mixing area.
Many Digital Mixers also have to ability to record via USB to capture a recording of the performance without needing extra equipment. Speaking of extra equipment – many Digital Mixers [Like the X32] have ready to go built in outputs for in- ear monitor systems that save on having to buy another piece of gear.
If you need help deciding which mixer is the right one for you just contact us at 1-877-778-7845 and one of our Pro Audio professionals will help you decide on the perfect mixer.
Happy Mixing!
Chad Palmer