Boss RT20 Rotary Speaker Ensemble Pedal
Model #RT-20
Free Shipping Over $99 Lower 48 States*
One Day Delivery to PA and FL!
No Tax Outside CA, FL and PA!
30-Day Guarantee!
Shipping Note: Due to size and/or weight specifications, there is an additional shipping fee of that will be added during checkout.
Shipping Note: Due to limited availability of this product, there is an additional shipping fee of that will be added during checkout.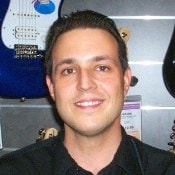 Description
The New Standard in Rotary Speaker Simulation
From the Beatles to Jeff Beck, Santana to Stevie Ray, many guitar greats have embraced the rotary-speaker sound on stage and in the studio. Today BOSS proudly announces the newest member of its Twin Pedal series — the RT-20 Rotary Sound Processor. Employing COSM®-modeling technology, the RT-20 authentically reproduces classic rotary-speaker sounds. It offers adjustable Rise Time, Horn and Bass speed, Overdrive, and more. And not just for classic twirl, the RT-20 can be used to create unique overdrive and pulsating effects as well. This pedal sounds amazing, and offers a stunning graphical view of the virtual rotors on its built-in display.
Authentic rotary speaker sounds by COSM® technology
Slow/Fast transition time is adjustable from gradual to rapid change; optional Expression pedal can control speed in real time
Onboard Overdrive effects
Adjustable mix balance between Treble Rotor and Bass Rotor
4 types of sounds, from standard rotary speaker effects to rock-oriented tones, UNI-V, and more
Guitar/Keyboard switch
Dazzling virtual-rotor display
COSM Technology

Years of intensive research and development have made Roland and BOSS world leaders in modeling technology. Roland's breakthrough Composite Object Sound Modeling (COSM) uses the advantages of multiple modeling methods, and succeeds in accurately emulating existing sounds as well as producing sounds that have never before been created. With the RT-20, COSM is used to simulate classic rotary characteristics, and beyond. The virtual horn and bass speaker can be independently adjusted, while the RT-20's unique graphic display provides a realtime view of the rotation pattern and speed.

Connections

Guitars and keyboards alike can be plugged into the RT-20; use the Drive Type switch to optimize the effects for guitar or keyboard. Surround your listeners in animated sound with the RT-20's dual outputs, which enable true stereo effects. Add color by adding an Expression pedal (such as the new BOSS FV-500H/FV-500L, optional), which lets you control parameters such as rotation speed seamlessly from slow to fast in real time. The RT-20's phone jack is handy for private practice and experimentation.

Virtual Rotor Display

Thanks to its stunning visual display, the RT-20 might be the most eye-catching pedal in BOSS history. The spinning lights don't just look cool, they also show the audio-rotation characteristics of the RT-20 in real time. The center of the display, illuminated in red light, represents the virtual horn. The outside ring, illuminated in blue, displays the rotation of the virtual bass speaker. It's attractive and informative!

Nominal Input Level -20 dBu

Input Impedance 1 M ohms

Output Impedance 1 k ohms

Recommended Load Impedance 10 k ohms

Display VIRTUAL ROTOR

Controls EFFECT ON/OFF pedal, SLOW/FAST pedal, MODE knob, RISE TIME knob, EFFECT LEVEL knob, DIRECT LEVEL knob, BALANCE knob, OVERDRIVE knob, SLOW SPEED knob, FAST SPEED knob, DRIVE TYPE switch

Indicators POWER(serves also as battery check indicator), EFFECT ON/OFF, SLOW/FAST

Connectors INPUT A (MONO) jack (1/4 inch phone type), INPUT B jack (1/4 inch phone type), SPEED (EXP PEDAL) jack (1/4 inch phone type), PHONES jack (stereo 1/4 inch phone type), OUTPUT A (MONO) jack (1/4 inch phone, type), OUTPUT B jack (1/4 inch phone type), AC Adaptor jack

Power DC 9 V=Dry battery (R6/LR6 (AA) type) x 6, AC Adaptor (PSA-series)

Accessories Owner's Manual, Dry battery x 6

Options AC Adaptor (PSA-series)

Size and Weight ( including batteries )
Width 173 mm 6-13/16 inches

Depth 158 mm 6-1/4 inches

Height 57 mm 2-1/4 inches

Weight 1.1 kg 2 lbs. 7 oz.