Audio-Technica ATW1101/L System 10 Lavalier Digital Wireless System
The portable system is well suited for quick setup in educational facilities, conference rooms, small venues and houses of worship as well as web broadcast studios!
Model #ATW-1101/L
Free Shipping Over $99 Lower 48 States*
One Day Delivery to PA and FL!
No Tax Outside CA, FL and PA!
30-Day Guarantee!
Shipping Note: Due to size and/or weight specifications, there is an additional shipping fee of that will be added during checkout.
Shipping Note: Due to limited availability of this product, there is an additional shipping fee of that will be added during checkout.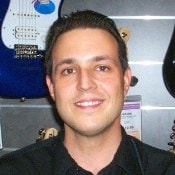 Description
The Audio-Technica ATW-1101/L System 10 is a digital wireless lavalier microphone system featuring an ATW-R1100 tabletop receiver. The portable system is well suited for quick setup in educational facilities, conference rooms, small venues and houses of worship as well as web broadcast studios.
The easy-to-use system comes preconfigured at the factory, ready to operate right out of the box with no setup required. Three levels of diversity reception and automatic frequency selection provide seamless, reliable performance with clear digital audio for presenters, lecturers, clergy, and performers.
The ATW-1101/L includes a bodypack transmitter and a miniature MT830cW omnidirectional lav mic for hands-free speech. The transmitter provides up to 7 hours of continuous use with two AA batteries, at a maximum range of 100'. Up to 8 mic channels can operate simultaneously in the same space.
The System 10 offers full-bandwidth, 24-bit/48 kHz digital audio with none of the audio artifacts associated with analog companding.
The low-visibility, miniature MT830cW lavalier microphone features a Hirose 4-pin locking connector and delivers a natural sound optimized for speech intelligibility. Its omnidirectional polar pattern ensures that the sound remains consistent, even when the speaker's head moves away from the mic.
Automatic Frequency Selection
Just power up the components, and the receiver automatically seeks out a clean frequency and pairs up with the transmitter, saving you the hassle of scanning and syncing.
While in use, the system continually monitors activity in the 2.4 GHz Wi-Fi range and automatically switches to a clean frequency to avoid interference if necessary.
Lightweight, Portable Receiver Chassis
The tabletop receiver chassis features lightweight, plastic housing designed to let you stack multiple receivers on top of each other for convenience.
The chassis' front-panel LEDs show pairing statuses and warn you if the transmitter's input level is set too high and causing distortion.
A System ID number display indicates which transmitter is associated with a given receiver.
Rear-panel connections include balanced XLR and unbalanced 1/4" output connections as well as an output level control.
Lightweight Bodypack Transmitter
The transmitter is housed in lightweight, plastic chassis equipped with a Hirose 4-pin locking connector and a belt clip.
An internal input trim control can be set, using the included screwdriver, to match the sensitivity of your microphone or audio source for distortion-free input.
With just a quick press, the power switch on the transmitter doubles as a mute function. This function can be locked out to prevent an accident.
Pairing Multiple Transmitters
With this peer-to-peer system, the transmitter can only transmit to one receiver at a time. However, up to 8 transmitters can be paired with a receiver ahead of time. This is useful in situations when you have multiple speakers, one after another, and you need to have them miked up and ready to go. All you'll have to do is turn one transmitter off and the next one on.
Triple Diversity Reception Maximizes Wireless Signal Integrity
Space Diversity: The receiver compares the signal showing up at its two antennas and chooses the strongest one.
Time Diversity: The transmitter sends the digital signal in two imperceptibly different time slots and compares the two.
Frequency Diversity: The digital audio is sent over two different frequencies at the same time and the system chooses the cleaner one.
For optimal performance, users are encouraged to maintain as direct a line of sight as possible between the transmitter and receiver.
2.4 GHz Wi-Fi Band
Unlike traditional analog wireless systems, the System 10 operates in the 2.4 GHz ISM band, away from interruptions and dropouts caused by TV and radio channel interference.
Audio-Technica offers a variety of lavalier, headset, instrument cable, and handheld microphone options to adapt your System 10 as your needs evolve.
Presenters
The AT831cW mini cardioid lavalier mic offers a narrower, feedback-resistant pickup pattern for louder events.
The discrete PRO-92cW earset mic provides improved clarity in spoken word applications.
Vocalists/Presenters
The ATW-T1002 handheld transmitter/mic is available for presenters and performers who prefer the flexibility of a handheld microphone.
Video Conferencing
The ATW-T1006 boundary transmitter/mic is designed for tabletop use, ideal for applications such as video-conferencing where minimum visibility is required.
Conferences/Boardrooms
The ATW-T1007 base transmitter can be used with a gooseneck mic on a table for situations where wired mics are impractical.