Understanding the Martin Line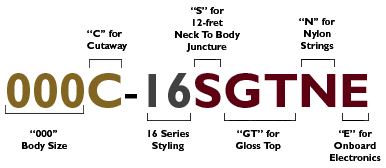 The initial letter(;s); stand for the body shape and size.
000 = Auditorium
C = Cutaway or Classical
Other body shapes/;sizes include:;
O = Orchestra
00 = Grand Concert
B= Black or Bass
D = Dreadnought
GE = Golden Era
J = Jumbo
K = Koa
M = Maple
R = Rosewood
SWD = Samrtwood
T = Top
U = Ukulele
V = Vintage
W = Walnut
X = X Series (;w/;o case);
Size 5 = Terz
Other styles options include:;
12 = Twelve-string
H = Herringbone
HP = Herringbone pearl
Note:; Hyphen (;-); separates size prefix from style prefix.
Ornamentation
The number after the letter designates the ornamentation or series styling.
The higher that number, the fancier the guitar. We don't go higher than 50.
Our eleven ornamentation styles run:;
1–;15–;16–;17–;18–;28–;35–;40–;41–;42–;45.
Our series styles run:;
X–;Road–;1–;15–;16–;17.
Special Features
The letter after the number denotes a special feature.
S = Slotted headstock
GT = Gloss top
N = Nylon strings
E = Electronics
SP = Special Edition
Other special features:;
A = Thin body
DB = Deep body
LS = Large soundhole

Contact Us:
Toll Free: 1-877-778-7845
Local: 561-863-6000
Fax: 561-840-9032

Phone Hours: Mon-Fri 930 am - 600 pm ET/ Sat 10:30 - 6pm /Sun: Noon-6pm
7830 Byron Drive Suite #1
West Palm Beach, FL 33404 USA
All content ©2003 - 2013 MusiciansBuy Inc. All Rights Reserved. All prices, descriptions, and specifications are provided with the intent of accuracy- however, Musiciansbuy will not be held liable for errors, omissions or misrepresentations and reserves the right to cancel any orders arising from such errors.